Thai Capital in Danger
Experts say these waters, aided by sinking land, threaten to submerge Thailand's sprawling capital of more than 10 million people within this century.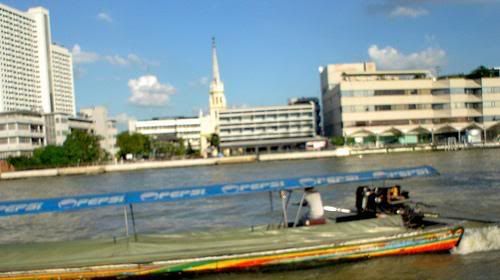 Bangkok is one of 13 of the world's largest 20 cities at risk of being swamped as sea levels rise in coming decades, according to warnings at the recent Intergovernmental Panel on Climate Change held here.
The loss of Bangkok would destroy the country's economic engine and a major hub for regional tourism.
"If the heart of Thailand is under water everything will stop," says Smith Dharmasaroja, chair of the government's Committee of National Disaster Warning Administration. "We don't have time to move our capital in the next 15-20 years. We have to protect our heart now, and it's almost too late."
The still expanding megapolis rests about 3 ½ to 5 feet above the nearby gulf, although some areas already lie below sea level. The gulf's waters have been rising by about a tenth of an inch a year, about the same as the world average, says Anond Snidvongs, a leading scientist in the field.
But the city, built on clay rather than bedrock, has also been sinking at a far faster pace of up to 4 inches annually as its teeming population and factories pump some 2.5 million cubic tons of cheaply priced water, legally and illegally, out of its aquifers. This compacts the layers of clay and causes the land to sink.
Anond, an oceanographer who studied at the University of Hawaii, says other options must also be explored, including water diversion channels, more upcountry dams and the "monkey cheeks" idea of King Bhumibol Adulyadej. The king, among the first to alert Bangkokians about the yearly flooding, has suggested diverting off-flow from the surges into reservoirs, the "cheeks," for later release into the gulf.
"There is no one single solution to respond to climate change," says Anond, whose team is putting forward recommendations based on several scenarios. "We have to start doing something about this right now."

Kemo D. (a.k.a. no.7)