The 2007
Tokyo
Motor Show
Among the "big five" auto shows around the world, none packs as many far-flung concepts under one roof as the biennial Tokyo Motor Show. See what's new (and what's wild) at this year's show!
Mazda Taiki
Mazda's swoopy concept exploits racecar aerodynamics for minimal drag combined with zero lift at high speeds. Under the skin, the car is propelled by a next-generation version of the company's signature rotary engine driving through a dual-clutch transmission.


Honda PUYO
The name refers to its spongy-soft gel-based bodywork that supposedly increases safety. Power is by fuel cell, under the direction of a joystick controller in the cabin.
Lexus LF-A
Lexus continues to home in on its ultimate supercar target, with the company's latest concept car showing its latest thinking on the styling of the eventual production car.
Nissan Pivo 2
This eccentric electric runs circles around the others, literally. That's because the wheels pivot ("pee-vo" in French, get it?) independently, so the car can spin in place or slot sideways into a tight parking space. A dopey robot face protrudes from the dash to encourage relaxed driving.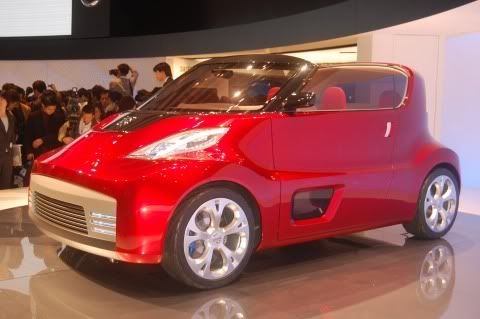 Nissan R.D/B.X
This compact sedan features a direct-injection gasoline engine with a continuously variable transmission for maximum efficiency in a futuristic four-seater.
Suzuki X-HEAD
This Suzuki 4x4 truck shows a fun execution of a utility vehicle, with short overhangs for maximum approach angles. The cabin is finished in water-tolerant neoprene, and an external utility box carries essentials.

Kemo D. (a.k.a. no.7)