Secrets of The Ural Mountains
A huge geoglyph in the shape of an elk or deer discovered in Russia may predate Peru's famous Nazca Lines by thousands of years.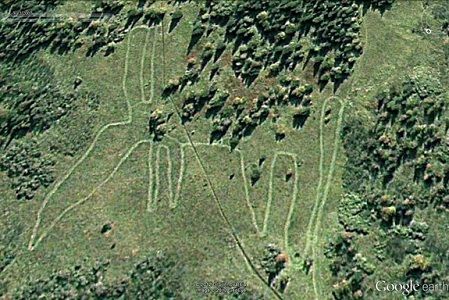 The animal-shaped stone structure, located near Lake Zjuratkul in the Ural Mountains, north of Kazakhstan, has an elongated muzzle, four legs and two antlers. A historical Google Earth satellite image from 2007 shows what may be a tail, but this is less clear in more recent imagery. Excluding the possible tail, the animal stretches for about 900 feet (275 meters) at its farthest points (northwest to southeast), the researchers estimate, equivalent to two American football fields. The figure faces north and would have been visible from a nearby ridge. Fieldwork carried out this past summer has shed more light on the glyph's composition and date, suggesting it may be the product of a "megalithic culture," researchers say. They note that hundreds of megalithic sites have been discovered in the Urals, with the most elaborate structures located on a freshwater island about 35 miles (60 km) northeast of the geoglyph. If that date is correct, it would make the geoglyph far older than Peru's Nazca Lines, the very earliest of which were created around 500 B.C. This geoglyph may have been built by a "megalithic culture" in the region that created stone monuments in prehistoric times. Researchers emphasize more dating work needs to be done to verify; however, if the evidence holds, the giant geoglyph, along with the megaliths, were constructed millennia before Peru's Nazca Lines.
A testament to the building prowess of an ancient prehistoric culture in the Ural Mountains.
Kemo D. 7