The Evolution of Modern Human Complexity
Small Lethal Tools Have Big Implications for Early Modern Human Complexity.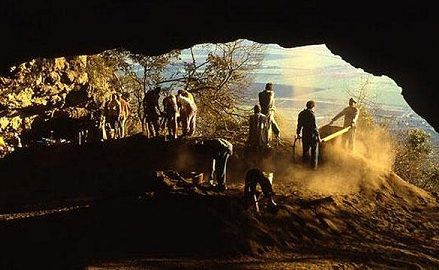 On the south coast of South Africa, scientists have found evidence for an advanced stone age technology dated to 71,000 years ago at Pinnacle Point near Mossel Bay. This technology, allowing projectiles to be thrown at greater distance and killing power, takes hold in other regions of Africa and Eurasia about 20,000 years ago. When combined with other findings of advanced technologies and evidence for early symbolic behavior from this region, the research documents a persistent pattern of behavioral complexity that might signal modern humans evolved in this coastal location. "Every time we excavate a new site in coastal South Africa with advanced field techniques, we discover new and surprising results that push back in time the evidence for uniquely human behaviors," said co-author Curtis Marean, project director and Arizona State University professor in the Institute of Human Origins.

The reported technology focused on the careful production of long, thin blades of stone that were then blunted (called "backing") on one edge so that they could be glued into slots carved in wood or bone. This created light armaments for use as projectiles, either as arrows in bow and arrow technology, or more likely as spear throwers. These provide a significant advantage over hand cast spears. "When Africans left Africa and entered Neanderthal territory they had projectiles with greater killing reach, and these early moderns probably also had higher levels of pro-social (hyper-cooperative) behavior. These two traits were a knockout punch. Combine them, as modern humans did and still do, and no prey or competitor is safe. This probably laid the foundation for the expansion out of Africa of modern humans and the extinction of many prey as well as our sister species such as Neanderthals," said Marean.
This is why continued and well-funded fieldwork in Africa is of the highest scientific priority if we want to learn about what it means to be human, and where and when it happened.
Kemo D. 7