The Year of Sustainable Energy for All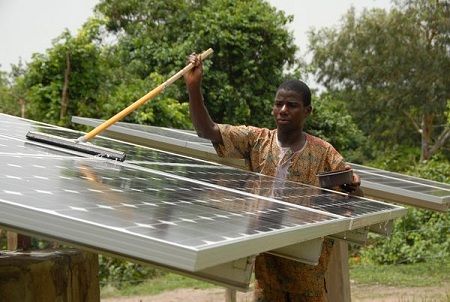 A man tends solar panels in Benin, Africa, site of a project that aims to bring energy, water, and hope to villages. The Solar Electric Light Fund (SELF) has shown how solar panels can power drip-irrigation systems that grow crops sustainably in arid regions where food shortages and malnutrition have been endemic. It is just one of the efforts that aim to deliver clean energy to the 1.6 billion people in the world who don't have access to reliable electric power. The United Nations sought to bring attention to the problem by declaring 2012 the Year of Sustainable Energy for All. Small-scale solutions can bring enormous dividends, such as simple solar lamps that can sell for as little as $10 to $20. SELF's Benin irrigation project is aided by a grant from the Great Energy Challenge, which funds other innovative energy solutions around the world, from Costa Rica to India and Washington, D.C. The grant program has a global focus, yet aims to highlight solutions for a specific country or community.
These promising endeavors make strides toward alleviating energy poverty, developing new technology and/or identifying the greatest potential for large energy gains.
Kemo D. 7