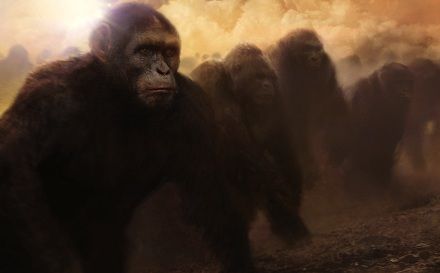 Teamwork has been fundamental in humanity's greatest achievements but scientists have found that working together has its evolutionary roots in our nearest primate relatives – chimpanzees. Pairs of chimpanzees were given tools to get grapes out of a box. They had to work together with a tool each to get the food out. Scientists found that the chimpanzees would solve the problem together, even swapping tools, to pull the food out. The study, published in Biology Letters, by scientists from Warwick Business School, UK, and the Max Planck Institute for Evolutionary Anthropology in Leipzig, Germany, sought to find out if there were any evolutionary roots to humans' ability to cooperate and coordinate actions. Dr Alicia Melis, Assistant Professor of Behavioral Science at Warwick Business School, said:

"We want to find out where humans' ability to cooperate and work together has come from and whether it is unique to us. "Many animal species cooperate to achieve mutually beneficial goals like defending their territories or hunting prey. However, the level of intentional coordination underlying these group actions is often unclear, and success could be due to independent but simultaneous actions towards the same goal. This study provides the first evidence that one of our closest primate relatives, the chimpanzees, not only intentionally coordinate actions with each other but that they even understand the necessity to help a partner performing her role in order to achieve the common goal."
"These are skills shared by both chimpanzees and humans, so such skills may have been present in their common ancestor before humans evolved their own complex forms of collaboration."
Kemo D. 7