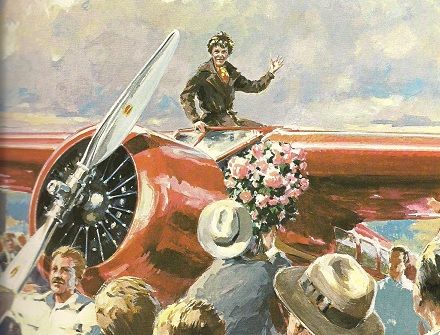 A grainy sonar image captured off an uninhabited tropical island in the southwestern Pacific republic of Kiribati might represent the remains of the Electra, the two-engine aircraft legendary aviator Amelia Earhart was piloting when she vanished on July 2, 1937 in a record attempt to fly around the world at the equator. Released by The International Group for Historic Aircraft Recovery (TIGHAR), which has long been investigating Earhart's last, fateful flight, the images show an "anomaly" resting at the depth of about 600 feet in the waters off Nikumaroro island, some 350 miles southeast of Earhart's target destination, Howland Island. According to TIGHAR researchers, the sonar image shows a strong return from a narrow object roughly 22 feet long near the base of an underwater cliff.

Shadows indicate that the object is higher on the southwest.
A lesser return extends northeastward for about 131 feet. "What initially got our attention is that there is no other sonar return like it in the entire body of data collected," Ric Gillespie, executive director of TIGHAR, told Discovery News. "It is truly an anomaly, and when you're looking for man-made objects against a natural background, anomalies are good," he added. A number of artifacts recovered by TIGHAR during 10 expeditions have suggested that Earhart and her navigator, Fred Noonan, made a forced landing on the island's smooth, flat coral reef. Gillespie and his team believe the two became castaways and eventually died there.
Kemo D. 7