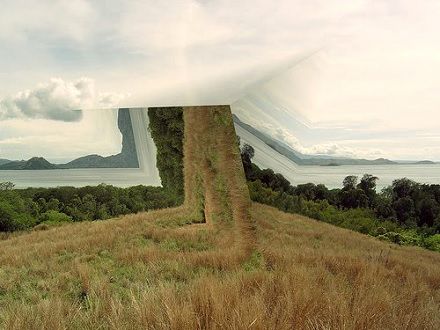 Perhaps our human senses are deceiving us — maybe existence is an illusion, and reality isn't real. The idea that everything we know is merely a construction of our minds is investigated in the episode of the Science Channel program "Through the Wormhole," hosted by Morgan Freeman. "What is real?" Freeman asks in the show. "How can we be certain that the universe around us actually exists? And how can we know that the world we see matches what anyone else experiences?" Human senses are fallible. What people think they perceive is actually filtered and processed by the brain to construct a useful view of the world. Normally, this filtering is helpful, allowing people to sort out important information from the barrage of data that comes in every minute from their environment. But this filtering ability can become a weakness, as it often does when we're watching a magician.

As members of society, people create a form of collective reality. "We are all part of a community of minds," Freeman says in the show. For example, money, in reality, consists of pieces of paper, yet those papers represent something much more valuable. The pieces of paper have the power of life and death, Freeman says — but they wouldn't be worth anything if people didn't believe in their power. Money is fiction, but it's useful fiction. Physicists look beyond the human mind for external reality, but even that reality isn't absolute truth. Fundamental reality as scientists understand it is based on quantum mechanics, a realm where all manner of strange things occur. An electron can behave as either a particle or a wave, depending on how one measures it. And scientists can measure either a particle's position or its momentum at any given time, but never both.

"Quantum mechanics is simply the best theory we've ever developed," theoretical physicist David Tong, of Cambridge University, says in the show. But so much of this reality is by definition unknowable. The universe may turn out to have more dimensions than we know about, where fundamental forces behave very differently than how we perceive them. "Things would be very different in this hidden reality," Freeman says. The universe could even be a kind of hologram. The amount of information that can be stored in a region of space is proportional to the region's surface area, rather than its volume – a property known as the holographic principle. One possible implication is that reality is actually two-dimensional, and the three-dimensional world is merely an illusion, which would explain some of the wackiness of quantum mechanics.
All of these views of the world — those that we perceive in our minds, and those that physicists discover in the universe — are flavors of reality. What humans perceive as reality may be no more than an illusion. But in the end, maybe that doesn't matter.
Kemo D. 7