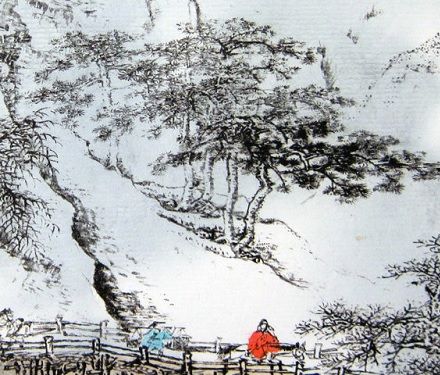 You probably don't want to become a Zen monk, but you can live your life in a more Zen-like manner by following a few simple rules. Why live more like a Zen monk? Because who among us can't use a little more concentration, tranquility, and mindfulness in our lives? Because Zen monks for hundreds of years have devoted their lives to being present in everything they do, to being dedicated and to serving others. Because it serves as an example for our lives, and whether we ever really reach that ideal is not the point.

Do one thing at a time. Single-task, don't multi-task. When you're pouring water, just pour water. When you're eating, just eat. When you're bathing, just bathe. Don't try to knock off a few tasks while eating or bathing. Zen proverb: "When walking, walk. When eating, eat."

Do it slowly and deliberately. You can do one task at a time, but also rush that task. Instead, take your time, and move slowly. Make your actions deliberate, not rushed and random. It takes practice, but it helps you focus on the task.

Do it completely. Put your mind completely on the task. Don't move on to the next task until you're finished. If, for some reason, you have no choice but to move on to something else, try to at least put away the unfinished task and clean up after yourself.

Do less. A Zen monk doesn't lead a lazy life: he wakes early and has a day filled with work. However, he doesn't have an unending task list either — there are certain things he's going to do today, and no more. If you do less, you can do those things more slowly, more completely and with more concentration. If you fill your day with tasks, you will be rushing from one thing to the next without stopping to think about what you do.

Put space between things. Related to the "Do less" rule, but it's a way of managing your schedule so that you always have time to complete each task. Don't schedule things close together — instead, leave room between things on your schedule. That gives you a more relaxed schedule, and leaves space in case one task takes longer than you planned.

Develop rituals. Zen monks have rituals for many things they do, from eating to cleaning to meditation. Ritual gives something a sense of importance — if it's important enough to have a ritual, it's important enough to be given your entire attention, and to be done slowly and correctly.

Designate time for certain things. There are certain times in the day of a Zen monk designated for certain activities. A time for bathing, a time for work, a time for cleaning, a time for eating. This ensures that those things get done regularly. You can designate time for your own activities, whether that be work or cleaning or exercise or quiet contemplation. If it's important enough to do regularly, consider designating a time for it.

Devote time to sitting. In the life of a Zen monk, sitting meditation (zazen) is one of the most important parts of his day. Each day, there is time designated just for sitting. This meditation is really practice for learning to be present.

Smile and serve others. Zen monks spend part of their day in service to others, whether that be other monks in the monastery or people on the outside world. It teaches them humility, and ensures that their lives are not just selfish, but devoted to others.

Live simply. To live simply is to rid your life of as many of the unnecessary and unessential things as you can, to make room for the essential. Now, what is essential will be different to each person.
Kemo D. 7