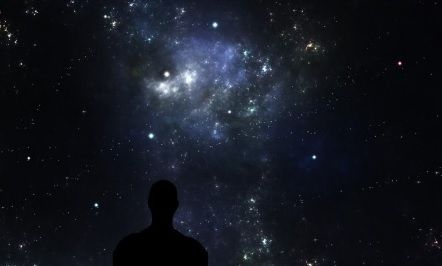 Two million years ago, something not quite human looked up at the sky and saw a glowing light, about the size of the moon, that hadn't been there before. That light was a huge eruption at the black hole at the center of our galaxy, according to new research by astronomers. We can only make educated guesses at what our predecessors would have made of this strange sight, which took place long before recorded history. We're not even sure which species of hominin might have been looking. But what should we Homo sapiens make of it? We might take it as further evidence of the precariousness of our existence: how the universe teems with threats, some still unsuspected, that might wipe us out in an instant.

Had our planet orbited a star closer to the Milky Way's black hole, it would have been bathed in radiation – probably killing off our ancestors. Cosmic radiation, which might also come from a supernova, is one of the few scenarios that could wipe out life on Earth, although bacteria might survive even that. Perhaps that's far-fetched; but then again, we don't know how many worlds out there may have been sterilized by abrupt cosmic events. But what significance do such threats hold for our quotidian existence? After all, we can't do much about erupting black holes. But think on: if Earth were emptied of life, it would be emptied of much more besides. In fact, the planet would eventually be transformed beyond recognition, becoming a hellish grey rock. Fortunately that scenario is far-fetched.
But it does highlight how closely intertwined our planet's geology and biology are. And it is that intertwining that we humans are picking at with our continuing assaults on the environment.
Kemo D. 7