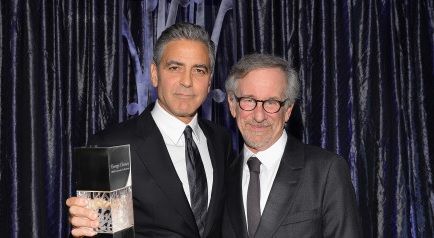 Steven Spielberg was honoring George Clooney for his humanitarian work around the globe last night, especially in the Darfur region of Sudan. At a glittery fundraising gala in the vast "Whale Room" at New York's Museum of Natural History, the director and his USC Shoah Foundation presented Clooney with its Ambassador for Humanity Award. Also on hand to praise Clooney were his co-star in the new movie "Gravity," Sandra Bullock, and Jon Stewart of "The Daily Show."

"George is the best kind of humanitarian," Spielberg said. "The humble humanitarian." The director called Clooney "an unparalleled example of action over apathy." Clooney told the crowd of donors that "Our job is to make it hard for the bad guys to do what they're doing, and for the good guys to ignore it." The actor also praised Spielberg for his foundation's work in creating and preserving video testimonies of Holocaust victims for future generations to learn from.
"We have to be able to keep a record of what the powerful can do to the powerless," Clooney said.
Kemo D. 7