Iran
's Secret Weapon: The Pope
The diplomatic chess game around
Iran
's nuclear program includes an unlikely bishop.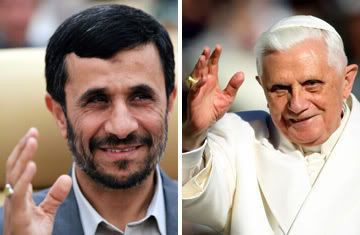 According to several well-placed
Rome
sources, Iranian officials are quietly laying the groundwork necessary to turn to Pope Benedict XVI and top
Vatican
diplomats for mediation if the showdown with the
United States
should escalate toward a military intervention.
The 80-year-old Pope has thus far steered clear of any strong public comments about either
Iran
's failure to fully comply with U.N. nuclear weapons inspectors or the drumbeat of war coming from some corners in
Washington
. But Iran, which has had diplomatic relations with the Holy See for 53 years, may be trying to line up Benedict as an ace in the hole for staving off a potential attack in the coming months.
"The
Vatican
seems to be part of their strategy," a senior Western diplomat in
Rome
said of the Iranian leadership. "They'll have an idea of when the 11th hour is coming. And they know an intervention of the
Vatican
is the most open and amenable route to Western public opinion. It could buy them time."
If the situation heats up in the coming months, the question of exactly what role the
Vatican
would play could become pivotal. Says one high-ranking
Vatican
official: "The Iranians look to the Holy See with particular attention. It is born from our common religious matrix. This could be utilized to offer ourselves as an intermediary if the crisis worsens." Among the potential moves: a forceful series of public appeals by the Pope, a Vatican emissary sent to
Washington
and
Tehran
, or a visit to the
Vatican
by Iranian President President Mahmoud Ahmadinejad.
Located in a leafy
Rome
neighborhood, the Iranian embassy to the Holy See features an entryway lined with a large photograph of Ayatollah Ruhollah Khomeini, and framed, centuries-old correspondence between popes and Persian monarchs, including a
Nov. 16, 1561
, letter in Latin from Pope Pius V to Shah Tahmasp I.
The current No. 2 official at the embassy, Vice-Ambassador Ahmad Fahima, said that despite some concern last year about the Pope's provocative speech about Islam in
Regensburg
,
Germany
, "relations between
Iran
and the Holy See are very good."
Iran has a surprisingly large diplomatic corps at the Vatican (only the Dominican Republic has more diplomats accredited to the Holy See) who have a monthly meeting with papal advisers. But other unofficial discussions, in trattorias and cafes and a variety of Church institutions, are a constant part of the diplomatic workings in
Rome
. And over recent months, the conversations have centered on the looming showdown over
Iran
's nuclear program.
Indeed, while home to a relatively small Christian minority,
Iran
is seen at the
Vatican
as a key player in the broader context of inter-faith relations. Religious experts say that Catholicism and Shi'a Islam have a surprisingly similar structure and approach to their different faiths.
"What you have in
Iran
is a strong academic tradition, with both philosophical and mystical aspects — in many ways like Catholicism," says Father Daniel Madigan, a Jesuit scholar of islam, and a member of the
Vatican
's commission for religious relations with Islam who helped arrange for Khatami's visit. There is also a clerical hierarchy in Shi'ism that is absent in other forms of Islam. Madigan notes that Iranians have long studied other cultures and religions.
"They know their Western stuff," he said. "Right now, they're isolated because of sanctions, but they really do want to interact with the world." And
Rome
is one place the interaction has already begun.

Kemo D. (a.k.a. no.7)