The Stone of Scone

There is one common thread that holds most monarchies together. Bloodlines, royal jewels, ceremonies, and associated pomp all boil down to a feeling of tradition that monarchies bring to their subjects. The Stone of Scone, sometimes called the Stone of Destiny, can certainly be placed in this class.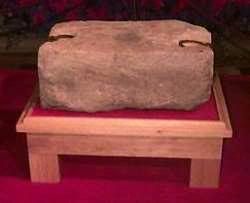 The Stone has been a part of the Scottish and English coronation ceremonies since at least 847. From looking at the Stone, one could not discern there was any importance to it at all. There is nothing physically remarkable about the stone, it is not jewel encrusted nor is it of any unusual material. As it appears today, it is a sandstone block measuring 26 inches long by 16 inches wide, and 10 1/2 inches deep.

However from the humble outward appearance, the Stone has a remarkable history.