Remnants of the first known surviving Roman throne have been discovered in the lava and ash that buried the city of
Herculaneum
in the first century, archaeologists said Tuesday.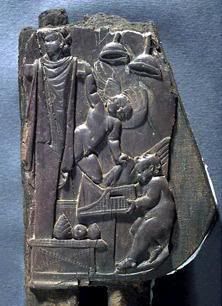 Decorated with ivory bas-reliefs depicting ancient deities, two legs and part of the back of the wooden throne were dug out between October and November.

They were found 82 feet below ground near
Herculaneum
's Villa dei Papiri, a first century country home that is believed to have been the residence of Julius Caesar's father-in-law.
Herculaneum
,
Pompeii
and Stabiae were destroyed by the eruption of
Mount Vesuvius
that killed thousands in the year 79. The layers of volcanic ash preserved the sites for centuries, providing precious information on domestic life in the ancient world.
Archaeologists said the throne was an exceptional find; furniture of its type had previously only been seen in artistic depiction. The throne depicts Greek mythological figures absorbed by
Rome
's culture and is decorated with images of the gods Attis and Dionysus, as well as pine cones and phalluses.

Kemo D. (a.k.a. no.7)